South Carolina Skunk Removal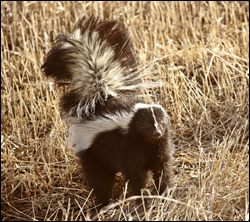 Skunks are one of the most popular species of wildlife that we are called upon to control in South Carolina. Skunks can be found living in crawlspaces, under front and rear porch and patio and basements in homes and businesses throughout South Carolina. They also take up residence under sheds, in hot tubs and outbuildings. A shed is normally elevated off the ground and is perfect for raising a family. If there is shelter they will seek it!
Skunk Exclusion
Skunk control and removal should only be attempted by people who understand the danger this animal can present. Wildlife Professionals understand this danger and have the tools and training to safely handle these very strong animals. South Carolina Animal Removal is your local professional that can get rid of your Skunk.